Glasgow Warriors Members Hub
Welcome to the members hub for the 2021/22 season. Please note, this webpage is exclusive to Season Ticket, Warrior Nation and Wee Warrior Members – please do not share.
Season Ticket Update (Monday 9 May 2022)

Thank you for your support of Glasgow Warriors during the 2021/22 season.

In preparation of our Season Ticket renewals for the 2022/23 season, we wanted to let you know of some changes taking place with regards to the allocation of Season Tickets from this year onwards.

In our continuous endeavour to provide our fans with the best possible customer experience, both as a member but also on a match day, each Season Ticket holder will now be required to have their Season Ticket in their own name.

This does not and will not impact on your ability to continue to pay for the Season Tickets you currently pay for on behalf of others. This will ensure however that members currently without an account are officially recognised as members for the first time.

As a Season Ticket Member you are now able to update this information ahead of renewals going on sale. Please note when renewals go on sale later in the month, it will be a requirement as part of the purchasing process to update this information.

Updating this information will ensure that:

All members can utilise their benefits more efficiently and quickly.
All members will have their own ticketing account, meaning our Customer Services can action any specific requests immediately, removing any time delays caused by having to communicate through the lead purchaser.
We can communicate with all members regarding their account, match day information, invitations to member events and important club updates and minimise the risk of these being missed.
Each and every member will be issued a Membership in their own name.
We can provide digital season ticket membership cards for each member to store in their own digital wallet
We can keep delivering safe events by having a better understanding of who is in the stadium on match days
We can have a better understanding of our Season Ticket Member demographics and can tailor member benefits and events accordingly.
Season Ticket Membership categories will be assigned correctly, for example if you are an Adult purchasing for a Senior their details should be listed

To assign your additional Season Tickets, please email [email protected] and provide the seat number, name, and client reference number of the individuals that you would like to have each of your season tickets assigned to.

Each member must have their own ticketing account to be able to assign a season ticket to them. If they need to create an account, please find instructions on how to register and activate an account here: How do I create/activate my account?

If the assignee already has a Scottish Rugby ticketing account and cannot locate their client reference number please find guidance here on how to find this.

We would also suggest you add each assignee to your network through your ticketing account, this enables you to purchase for them in future and assign the tickets to their individual ticketing accounts. To find out how to do this, please visit: My Network.

For answers to other frequently asked questions please visit Ask Scottish Rugby.

If you have any questions, please do not hesitate to contact us.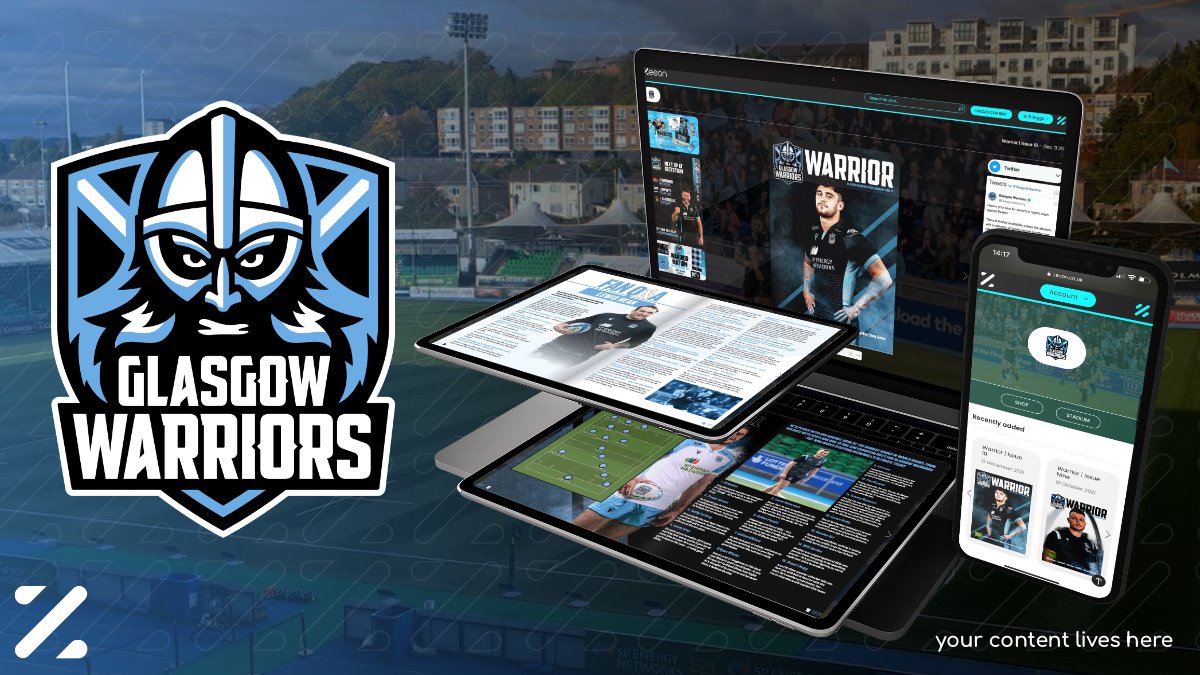 The official magazine of Glasgow Warriors is back for the 2021/22 season, with Issue 10 of Warrior available now!

After his meteoric rise in 2021, we sit down with Rufus McLean to discuss the flyer's remarkable journey from breaking into the Glasgow side to wowing BT Murrayfield on his Scotland debut.
We also put your questions to Lewis Bean, hear from Sebastian Cancelliere on his Road to Scotstoun, and catch up with former scrum-half Chris Cusiter as we find out what the former British and Irish Lion is up to these days!

Normally priced at £3.99, Members can download the latest issue for free - simply enter your Membership Number when prompted on our zeeon.co.uk page to redeem your free download. Please note - one Membership Number is valid for one download only.
Please email [email protected] if you have any issues downloading the magazine.
---
Mobile & iPad Backgrounds
---
---
DEVELOPED BY MACRON
OFFICIAL GLASGOW WARRIORS KIT
Shop the full Glasgow Warriors 2021/22 range online
SHOP NOW
---
---
---